Welcome to Hingston's!
At Hingston's we use all locally sourced ingredients, most of which are also farmed in the southwest, to produce exceptional quality pasties, pies and
more
. We take pride in everything we produce, from using our own master butcher, to ensure that only the best cuts of meat are used, to hand filling and crimping our pasties and pies, ensuring that each one is full and meaty.
We also strive to be as environmentally friendly as possible, we use local suppliers to reduce the road mileage of the ingredients we use, we operate a zero to landfill policy and any edible items that cannot be sold but are still perfectly edible, are collected by the Devon and Cornwall Food Association, to be distributed to the vulnerable within our community. For more details on all of this,
click here
.
Services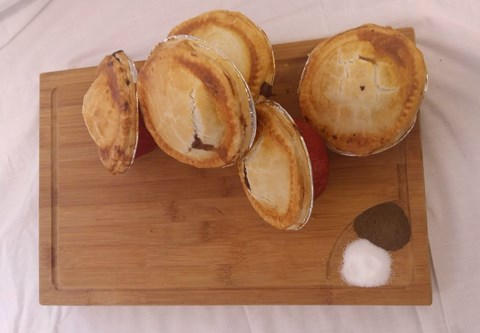 We sell our products through our own shop at
13 Underwood Road
, we also
wholesale
to customers in Plymouth, the South Hams, Dartmoor and further afield and of course you can also buy our products from any of our wholesale customers who sell our products.
News
08/07/16: The film for the DCFA Natiional Lottery Award will be aired on The National Lottery Draw on 09/07/16. Tune in to see it.
07/07/16: Summer seems to be arriving. The roads are busier and our seaside customers are starting to see more visitors. I'm hoping for a heatwave!

30/06/16: Filming today for a piece supporting the Natiional Lottery Award vote for our friends at the DCFA. Vote for them, if you haven't yet.